Are you looking for a reliable way to switch important data from Domino Server to MS Outlook? If yes, you have come to the right place. The article shares some useful techniques to transfer NSF files to MS Outlook.
Domino Server integrates with Lotus Notes to create the replica of files to save in the server. Lotus Notes can install in your system to manage emails, contacts, journals, and notes applications. With Domino Server integration, Lotus Notes become powerful to store data and maintain high security of databases. Domino Server makes Lotus Notes compatible with numerous operating systems including Windows, Linux, and Mac.
MS Outlook is another very popular email client used by hundreds of small organizations to manage emails, contacts, notes, messages, and journals online and offline. With Exchange Server, MS Outlook saves data online.
Why do Users Prefer MS Outlook to Domino Server?
Lotus Notes, HCL Notes, or Domino Server gives many reasons to users to transfer data from Domino server to a reliable platform. MS Outlook is the product of Microsoft and is reliable because of its robust security. Therefore, when it comes to converting Domino Server data, users like to consider MS Outlook as a better option.
The maintenance of Domino Server is trickier than MS Outlook. It is complex to handle Lotus Notes alone if you are a novice. It needs sound technical skills. The maintenance of MS Outlook, on the other hand, is easy. The cost of maintenance of MS Outlook is not as higher as the cost of maintenance of Lotus Notes.
The user interface of Lotus Notes is complex. It needs technical proficiency to understand and operate without technical help. You may need to go for training to operate the emailing platform. For MS Outlook, it is easy to understand how the tool works. It doesn't demand in-depth technical skills.
Manual Solution to Export Domino Mail
The solution has two steps to follow-
Export Notes Data to CSV Format
NOTE: This is a manual method that doesn't give assurance of accuracy. Therefore, it is good to keep the copy of the NSF file that you want to export.
IBM/HCL Notes to CSV conversion steps to follow-
Go to the File menu, and from the drop-down, select Export.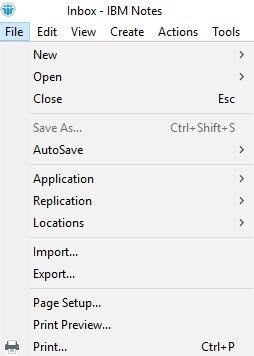 • The Export window will open asking you to provide the location to save the CSV file.
• Expand Save as type drop-down and select Comma Separated Value.
NOTE: Here you can select export notes to "Calendar file (.ics)" or "Structured text".
Give a unique name to the file and then select the Export button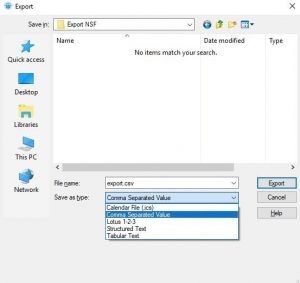 • It will open the CSV Export dialog box, select the appropriate option and then press the OK tab.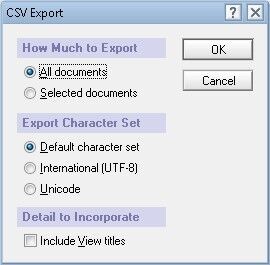 • Press the Finish tab to get the results.
Step 2: Import CSV File into Outlook
In the second step, users will export CSV files to MS Outlook. Here are the steps to follow-
Hit the Outlook application, and go to the File option.
From the drop-down, choose the Open & Export option and then the Import/Export option.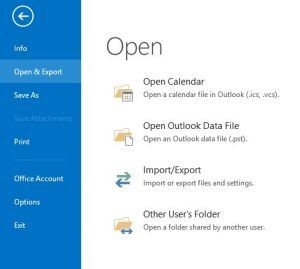 • It will open the Import and Export Wizard, select the 'Import from another program or file' option, and then the Next button.
NOTE: If you are looking to transfer only calendar data, select the 'Import an iCalendar (.ics) or vCalendar File (.vcs)' option.
From the Import a File dialog box, choose the Comma Separated Values option, and press the Next button.
The import a file window will appear, press the Browse button to locate the recently created CSV file and choose one option from the three-given options and press the Next button.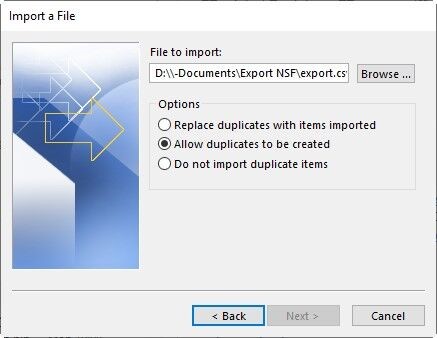 Select the targeted CSV file and press the Next button.
After that, press the Finish tab to complete the process.
This is how you can switch from Lotus Notes to MS Outlook manually. How do you find the process? There are some downsides of the solution that one cannot ignore.
The method doesn't support the direct export of Domino mail files to PST file format.
The manual process is a bit confusing because it requires users to follow several steps.
It is a lengthy and time-consuming process.
It is not recommended to novice users
It doesn't permit users to export multiple NSF files at one go.
Automated Conversion of Domino Server
When it comes to exporting NSF files to MS Outlook automatically, the technology market gives you multiple choices. It may create confusion. You can ward off your confusion by selecting the app that is reliable, affordable, and gives 100% data accuracy after conversion.
NSF to PST Converter is such an application. It receives an excellent rating and positive reviews from its users. The application is embedded with advanced features that make the conversion process easy, fast, and secure. Below are some key features of the application.
The conversion tool requires pre-installation of Lotus Notes to export data, but it doesn't need pre-installation of MS Outlook to export data.
The application manages to transfer as many NSF files as you desire because of unlimited license validity.
The tool keeps the file quality intact during conversion by exporting all fields of emails with attachments. Contacts are exported with their fields. The data structure remains unchanged.
The conversion program is result-oriented. It gives users proper control over getting satisfactory results. It exports only required folders of NSF files to PST with its advanced filtration feature.
The conversion process is so easy with the help of the program. Anyone with basic computer skills can operate the program to transfer data.
Related Post:- Convert NSF to PST Without Lotus Notes 
Conclusion
So, what is your decision? Do you want to consider a manual conversion solution or professional tool assistance? Your Domino Server data is precious. Don't take the risk of data loss.