As we know that the data stored in PST file has certain limit which cause many errors. In case of MS Outlook 2002 and earlier versions, PST file is saved in ANSI format that has limit of 2 GB storage. Whereas for Outlook 2003 and above versions, Unicode PST file is generated that has limit of 50 GB. But the issue arises when PST file become oversized. Also, this is the most common issue and thus users need to PST Shrink Software.
Considering this issue, we have come up with many techniques in this post that will help you to reduce oversized Outlook PST file size.
Benefits of reducing PST file size
Allows to easily manage Outlook mailbox data
By reducing PST file size, you can overcome problems like hanging & slow performance of Outlook
Avoid MS Outlook corruption issue
Automated Solution to Outlook PST Shrink size
The best and safest way to reduce the size of PST file is to opt an automated program like PST Shrink Software. This utility allows shrinking size of PST file by removing unused space, junk space, unused cache, and by removing all attachments. Also, users can remove, save & compress attachments to reduce Outlook data file size.
You can smartly add multiple PST files together at once to shrink PST file size. Moreover, it does not even demand for Outlook configuration for shrinking PST file size. The software allots enhanced features to resolve issue of oversized PST file. You need to simply download the software for free and resolve your problem of large PST file size issue.
Note: Prior you pay for the license version, we recommend you to use free demo and evaluate the utility first.
Guide to shrink MS Outlook PST file size by this utility:
Below are the instructions for reducing large Outlook data file size. Immediately go through the steps sequentially to shrink your PST file:
Firstly, launch and open the software for shrinking Outlook PST file size.
Then, add one or more PST files that you want to shrink.
Set required path to save the output file.
Hit Process button to start the process.
In appeared window, mark options to remove unused space, junk space and unused cache. Also, pick option 'Remove all attachments'
Place mouse cursor to Start Converting button.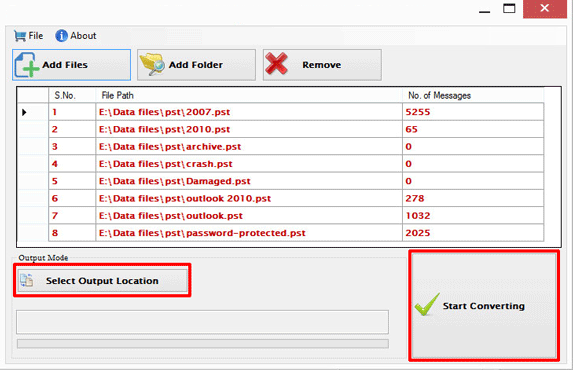 Within few minutes, you will get the size of resultant PST file lower than actual PST file size. Now, you can simply open this PST file in any MS Outlook account.
Now, the issue here is many users believe to opt manual methods. So, in next part, we will also talk about the manual methods. But make sure to carefully attempt manual methods as they may harm your data.
Free Methods to Shrink Outlook PST file
Yes, there are various manual or free methods that can help you to shrink the size of PST file. Here, in this part, we provide you two different free solutions.
Compact Utility
In the starting, go to File tab and then click on Info
Pick Account Settings option and again click on Account Settings to move ahead.
Select option of Data Files and then hit on Now, choose required file and press Compact Now button.
Now, hit OK to end the process of shrinking PST file.
For MS Outlook 2003 and 2007 Editions:
From File tab, choose Data File Management option
Double-click on Data File and look for targeted file to which you want to shrink.
Click on Setting and choose Compact Now option
In the end, hit Exit to complete the process of reducing oversized PST file size.
Archive Emails in Outlook
In MS Outlook, jump to File tab, then choose Info. Pick option Tools and then Clean up old Items.
In the opened dialog box, choose Archive the folder & its sub folders. Now, pick the file and folder to archive.
Mark Include items with Do Not Archive option to archived required files.
Hit OK to complete the process.
This is how manually you can shrink the size of oversized PST file. But make sure to use these manual workarounds, you must present Outlook in the system and you are fully aware of its functions.
Conclusion
We all know that an oversized PST file can create big trouble for users in MS Outlook program. In this situation, users need to Reduce Large PST File Size. Therefore, through this post, we have come up with a one-stop professional software which perfectly shrink every size Outlook files with its multiple features. But if you are technically sound and have time to invest then you may also opt manual solutions which are quite useful in reducing or shrinking PST file size. The choice of method is totally yours as per your suitability.