If you have contacts saved in MS Excel file and need to import to Google contacts then this is directly impossible. For this, you must convert Excel contacts into vCard format or CSV format. This is because Excel XLS/XLSX file is not supported by Gmail. In today's post, we will inform you how to import contacts from Excel to Google Gmail contacts via CSV or VCF format.

Microsoft Excel allows users to store and manage large amounts of data in XLS/XLSX formats. Due to the huge amount of data storage, users prefer to save contact details like first name, last name, phone number, email id, and more.
On the other hand, Gmail is free email service that allows users to send/receive emails, contacts, calendars, chats and more. In today's modern time, no one wants to lose their contacts so they want to create a backup of contacts and Gmail is a safe platform to store them. Users can comfortably synchronize contacts with phone. So, they need to import contacts from Excel to Gmail account.
Manual Guide to Import Excel contacts into Gmail/Google Contacts
As we discussed earlier, Gmail does not support Excel XLS/XLSX files. Therefore, you first need to convert Excel contacts to CSV format and then import CSV file to Gmail account. In this section, we will teach you step by step process:
Step 1. Save Excel file to CSV file format
Arrange all your contact information in Excel spreadsheet. Separate rows and columns for first name, last name, mobile number, email address, and other details.
Now, save Excel file as CSV file
This is the first step, now go to second step to complete the import process.
Step 2. Import CSV file to Gmail
Login to your Gmail account
Hit Google Apps icon and then choose Contacts
Hit the Import option to import Excel contacts file to Gmail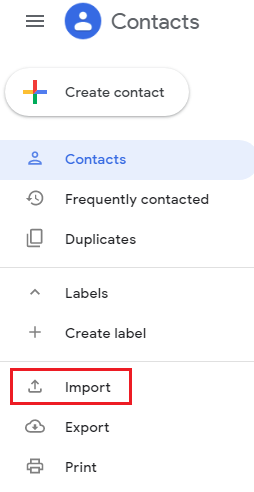 In wizard of Import contacts, select CSV file created in 1st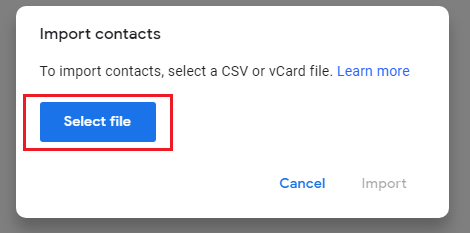 After this, hit the Import button.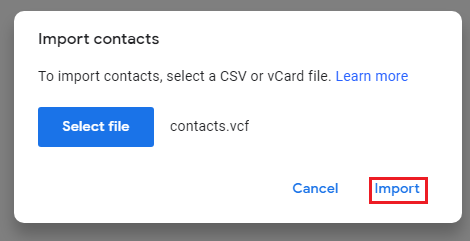 This is how you can save contacts from Excel to Google contacts for free.
Opt Automated Solution to Import Excel spreadsheet contacts to Google Contacts
Google/Gmail support both CSV and vCard formats for importing Excel contacts to Gmail account. So, you can convert Excel contacts to VCF format and can easily import contacts from Excel file to Google contacts. To do so, use SYSessential Excel to VCF Converter that lets users export all Excel file contacts to vCard format in few easy clicks. Since, vCard is highly used and standard format to store contact information. Also, vCard format is almost supported in all applications like Android phones, Google contacts Outlook, iPhone, iCloud, etc. Therefore, mot users prefer to save contacts into VCF file format.
This conversion tool will move all Excel contacts into a single as well as multiple VCF files. Without size restrictions and data loss risk, all contacts are safely moved from Excel files to Gmail contacts supported by VCF file format.

Let's know how to Import Excel contacts to Google Contacts via VCF format
Step 1. Start this software by its installation on any Windows computer.
Step 2. Use the Browse option and load the required Excel XLS/XLSX file.

Step 3. Preview data of added Excel file and map fields of Excel file with vCard fields.
Step 4. Choose a single vCard format if required and then set the preferred location to save VCF files.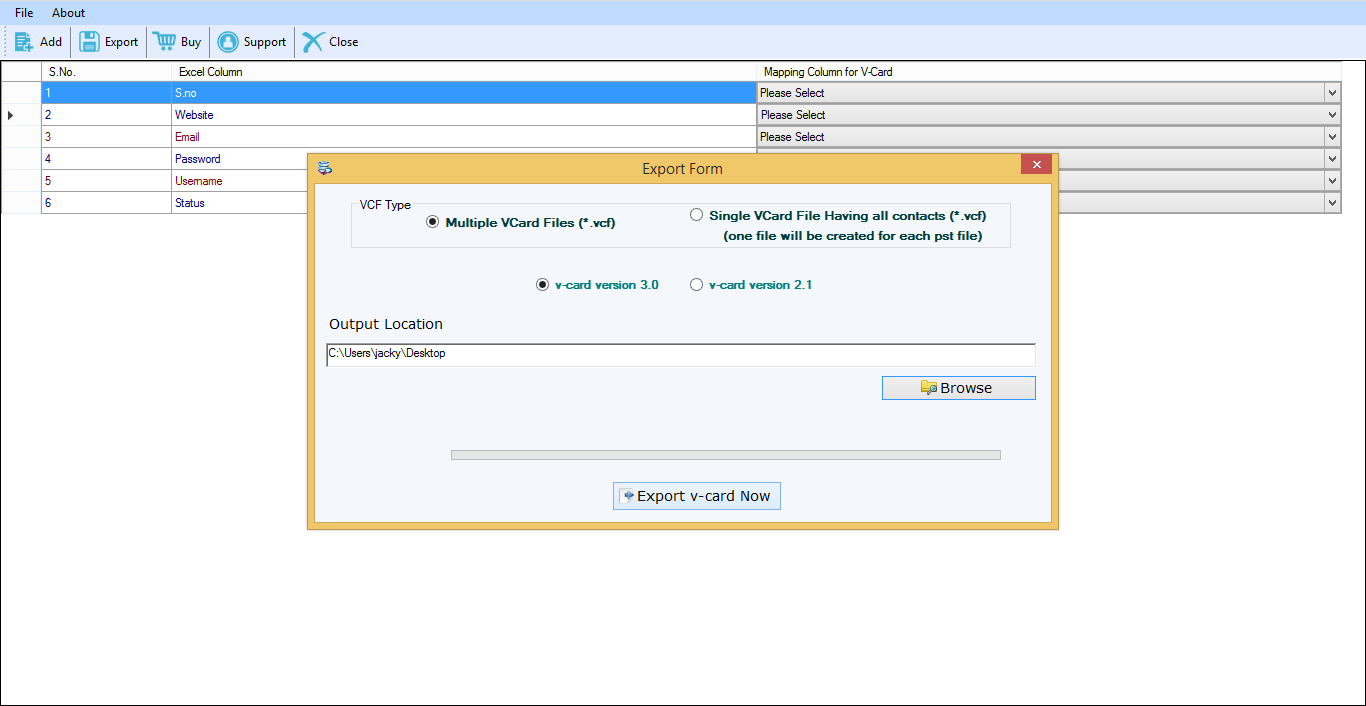 Step 5. To get all contacts in VCF file format, press the Export button.
Once the process gets completed, the software display message of successful conversion. Now, you can view contacts from selected locations and save Excel contacts to your Google contacts by following the same process as the CSV file.
Note: If you are working with the demo edition of the software, it displays messages as the conversion of the first 10 contacts from Excel data file to VCF file as it can't export all Excel contacts into your Google Gmail contacts.
Top-class Features of this Professional Program
The very simple solution to operating without any technical intelligence
With all contact information, Excel data is moved into Google VCF file format
No supportive environment is required for Excel contacts data export to the VCF file
Find all contacts of the Excel file in the preview pane before transferring to the VCF file
Offer provision to map Excel contact fields with vCard contact fields
Export all Excel contacts in a single vCard file or into multiple vCard files
Proper software analysis by downloading demo edition before purchase
Safe conversion of Excel contacts data into vCard format without size restrictions
Well support for all MS Excel versions – 2021, 2019, 2016, 2013, 2010, etc.
Conclusion
Everyone is aware of the importance of contacts. Therefore, to fulfill the need to convert Excel files to Google contacts, we have explained solutions in this post. The first one is the manual way which will take a lot of time especially when there are lots of contacts for migration. Hence, many users opt for the second method which is a professional tool to simply import XLSX contacts to Google contacts. Also, the free testing mode is available prior to get the license keys.