Outlook Express is one of the popular email clients developed by Microsoft Corporation. But later on Outlook Express is discontinued by Microsoft and decided to launch Windows Mail. So, at that time, Outlook Express users want to move their emails to another platform. If you are still using Outlook Express and want to move their emails into MBOX file format. Then, this post will help you to achieve the conversion.
MBOX is one of the popular storage format that is used by a number of email clients like Thunderbird, Apple Mail, The Bat, etc. Therefore, users are moving towards MBOX format and are in need of an effective solution to convert Outlook Express DBX file to MBOX file format.
Real-Life Scenarios
"Recently I receive a lot of emails saved in .dbx file and I am using Thunderbird email client. So, to open these DBX emails in Thunderbird, I am in need of a trusted solution that can convert DBX files into MBOX file format as it is supported by Thunderbird. Please suggest a smart & easy solution."
"I have bulk emails saved in DBX file and I want to access them in Apple Mail. But the problem is DBX file is directly not accessible in Apple Mail. Therefore, I have to Convert DBX file to MBOX Format. Can anyone provide a trustworthy solution to perform the conversion?"
Why Need to Convert Outlook Express DBX file to MBOX?
Most of the users are still using Outlook Express from a long time on their Windows XP system. However, certain situations occur when users need to upgrade their Windows edition to achieve desired tasks. Some of the situations are:
All are aware that Outlook Express is an outdated email client in which hacking can be easily done therefore users need to upgrade their Windows operating system.
If a user wants to switch from Outlook Express to Thunderbird or any MBOX based email client then the conversion of DBX file to MBOX format becomes necessary.
When users want to upgrade their Windows from Win XP to Win 10 then this needs conversion of Outlook Express DBX data items into MBOX file to access in various MBOX based email clients.
There are few limitations in Outlook Express to manage email items. However, in any MBOX email client that facilitates multiple advanced functions, the data can be easily managed.
A Rapid Solution to Convert OE DBX file into MBOX File Format
The most effective, rapid and trusted solution is to use third-party software for the conversion of Outlook Express emails into MBOX file.
One such smart solution is Sysessential DBX to MBOX Converter. This brilliantly convert DBX file items directly into MBOX file format.
In the upcoming section, we describe the functioning and major features of the software to quickly export Outlook Express file to MBOX file format.
Functioning of Outlook Express to MBOX Converter
Download & Launch this program to convert OE to MBOX on your Windows system.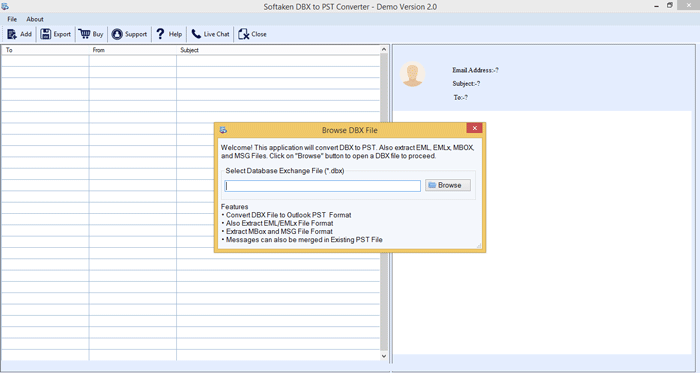 Click on the Browse button and load Outlook Express DBX file that you want to convert.
Check DBX file data in preview panel and click on the Export button.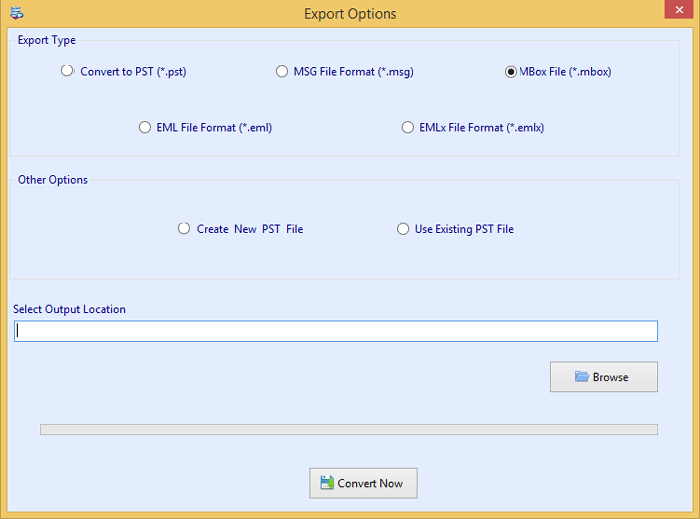 Make sure MBOX format is chosen in conversion options.
Use the Browse button and mention a location to save MBOX file format.
Prominent Features of DBX File to MBOX Converter Tool
With professional utility, conversion of Outlook Express emails to MBOX file format becomes too simple. Here are some of the finest features of the software:
Preserve data structure: After the conversion, users can get email formatting and data of DBX file in its original structure in MBOX files. It keeps all important data in its original structure.
Export DBX file with attachments: The software allows users to export all attachments inside DBX emails. It does not modify any email or attachment throughout the conversion.
Simple and friendly application: The friendly interface of the application makes it easy to handle without any hassles. The whole conversion process is completed seamlessly.
Try free demo version: Download free version of the software and explore the functionalities in detail. The trial version allows conversion of first 10 items per folder.
Instant scan and preview DBX file: Any size DBX file can be loaded to export into MBOX file format. Complete data of DBX file is scanned and then previewed before export into MBOX format.
Last Words
This article aims to provide a smart & best solution for the conversion of DBX file to MBOX file format. Manually, it is not possible therefore we offered a professional solution to convert Outlook Express to MBOX file format. Try out the software working by downloading free version. For any confusion, get in touch with our support team.