PST file format is created in MS Outlook for complete data items storage. Multiple PST files can be easily saved in MS Outlook. However, to access and manage multiple PST files is not easy. It needs to provide the password (for password-protected file) to open every PST file. There could be high chances of accidental deletion of one or more PST files. With use of multiple PST files, the performance of Outlook is also affected and once the size of PST file crosses its maximum limit then PST file can be easily corrupted and huge data loss can be occurred. All these conditions show that there is requirement to merge Outlook PST files into a single PST file. The merged single PST file is convenient to handle.
Some main causes that show merging of outlook PST file into one:
Moving to another email client
Archiving old PST file data conveniently
Collecting team information at a single platform
Taking backup of existing Outlook accounts
Creating a single account from different work or professional accounts
Moving to new versions such as Outlook 2019
 Benefits of merging multiple Outlook PST files
Here are the benefits that users can get after once your merge multiple Outlook PST files into one PST file.
No risk of deletion and loss of the file
Migration of single PST file becomes easier
Quick access of data without any manual search
Convenient backup and archive process
Enhancement in Outlook performance
Ease of accessing the file in Outlook
Elimination of efforts and time wastage
Manageable security of single file
Once you know the benefits of Merge Multiple Outlook PST Files. Now, let us know how to merge Outlook PST files.
Methods to use to merge multiple PST files into MS Outlook
By using Outlook, one can merge multiple PST files into one PST file, simply create a new PST file and import other PST files data into this new file. But for multiple files, you need to repeat the import process.
The second way of merging multiple PST files is taking help of third-party tools that smartly merge any number of PST files into single PST file automatically.
Let us first know the process with free manual method for merging multiple PST files.
Note: It is recommended to take backup of Outlook PST file before using this solution to avoid any kind of data loss and modification in the data during the process.
Manual method
Open MS Outlook application. Go to Home tab and click on New Items option and click on More Items. Now, click on Outlook data file option.
Select the path for saving this new file using Browse Assign a name to this PST file and hit OK button.
This will create a blank PST file at your defined location.
Now, again go to Outlook application. Click on File, choose Open & Export and then select Import/Export.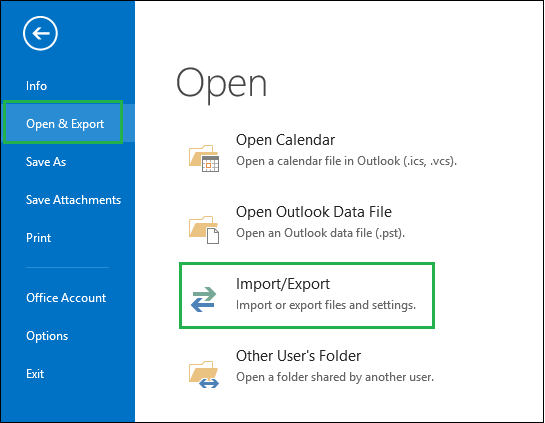 5. In Import and Export wizard, select option Import from another program or file and click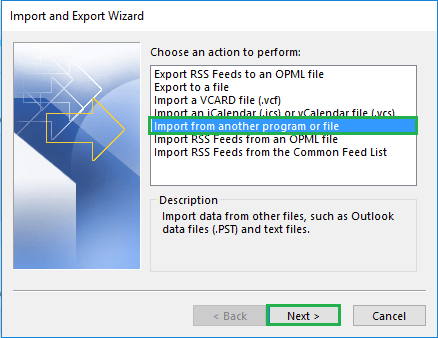 6. In Import a file wizard, select Outlook PST file and then hit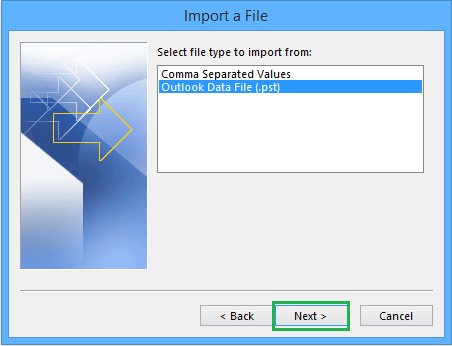 7. Browse the PST file that you want to add in Outlook. Then, select desired option to manage duplicate items. After this, click on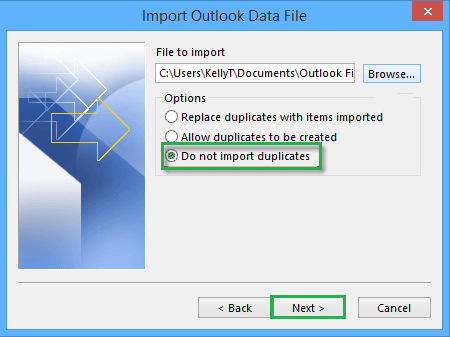 8. Now, select PST folder that you want to import.
Note: Also, choose Include subfolders option if you want to import the single folder from the mailbox.
Also, select the checkbox Import items into same folder and select the newly created PST file account. Then, click Finish.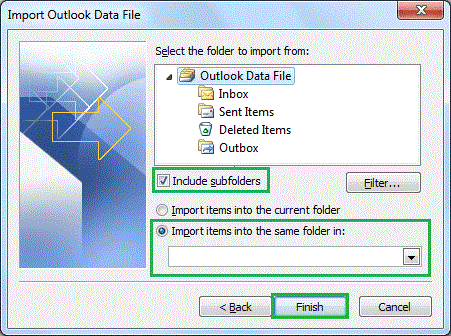 The mailbox folder items from PST file are added to the newly created Outlook PST file.
For adding multiple PST files, you need to repeat the process from Step 4 to 8 one by one.
Alternate method
After reading the complete process of adding multiple PST files data into single PST file through manual method, you have realized that it is not easy to deal with multiple PST files to import them one by one in Outlook. If number of PST files are few, then one can go for this method but it is definitely not suitable for large number of PST files. This process also holds risk of incomplete import and data loss. Therefore, the manual solution is not considered a reliable method.
But we will surely provide you the best solution in the form of professional Merge Outlook PST Software. This tool automatically merge multiple PST files without considering the number of PST file and version of MS Outlook. The software allows merging of selected folders or items. It will also deliver perfect results without any data loss issues. Even, you don't need Outlook installation on your system for merging multiple PST files. It does not restrict password-protected, ANSI, and Unicode PST files from merging into one.
Wrapping Up
Merging PST files is required in multiple situations and to do this manually is not appropriate all time. Through this blog, we have explained the causes and benefits of merging multiple PST files. For few PST files, manual solution can be used but very carefully. For hassle-free and quick results, go for professional merge Outlook PST Tool that supports every Outlook version.