Whenever a user need to convert EML to PST file for Outlook, they start searching for simple and reliable ways for the migration. No doubt, a lot of methods are there that can perform the conversion but you have to explore the solution which is appropriate for you. Through this article, we will help you to learn the reasons and methods to convert EML files into PST format.
EML file is an individual email message file that contains information present in single mail. This file contains email content, sender information, recipient information, date of the message, etc. The size of these files are small as it stores a single email message.
A Personal Storage Table (.pst) file is Outlook data file that stores complete mailbox information. It is known as personal information manager and has advantage over EML files that a PST file store information equal to hundreds of EML files. Apart from this, there are many other reasons for the conversion.
Need to convert EML file to PST
A user may need to convert EML to PST for Outlook due to various reasons. However, there are many common reasons due to which users need to migrate EML files. Also, it is important to know why users want to convert EML files into Outlook PST files.
MS Outlook is considered one of the secure email clients with amazing features therefore users need to convert EML data to Outlook PST file.
EML files are prone to corruption. They can be corrupted easily than other formats so export them to PST format is an efficient way to protect your valuable data.
EML file store a single email message. When you save complete mailbox as EML files, it takes a lot of space. On the other hand, PST contains entire mailbox items with attachments in minimal space.
After learning the reasons for EML conversion, you must know the methods to convert EML data to PST file format.
How to convert EML to PST file format?
You can convert EML files into PST file format through multiple methods. The task of conversion can be completed either using third-party software or using manual tricks. To execute the manual methods, technical knowledge is required. So, let us know all the methods to perform the conversion.
Manual method
Professional method
Manual methods to convert EML files into PST file format
With Windows Live Mail and MS Outlook
For this method, both Windows Live Mail and Outlook are required in the system. After this, you can go ahead to convert EML to PST file format.
Launch MS Outlook and Windows Live Mail
In Windows Live Mail, click on File button.
Select Export email option and choose Email messages.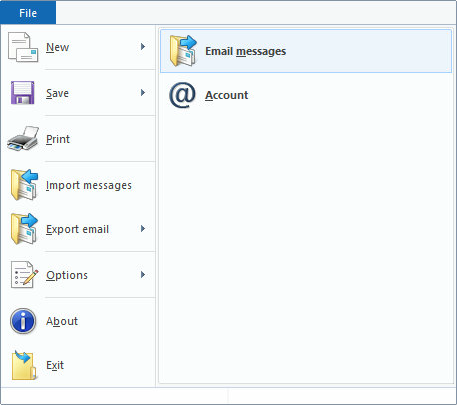 Choose Microsoft Exchange in export option and click Next.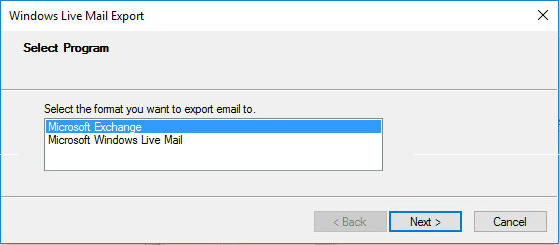 A pop-up screen to export all emails to Microsoft Outlook is opened, click OK

Select desired email from mailbox folder or migrate complete mailbox emails. Then press OK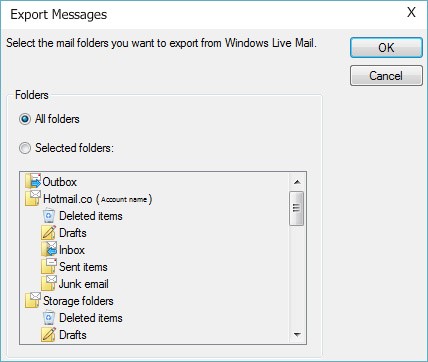 This will start the migration and after finishing it, click on Finish button.


2. Drag & drop EML files
For using this method, Microsoft Outlook installation is required. This method is applicable when you have EML files on your system and no other EML based email client is installed in the system. Then, you can use this drag & drop method to export EML files into Outlook file format with the below-mentioned steps –
Open Microsoft Outlook on your system.
Navigate to the location where you have saved your EML files.
Select desired EML file.
Click on the file and hold.
Simply drag them and drop in MS Outlook.
This will move EML files into Outlook
3. Using Outlook Express
With Outlook Express, EML files to PST file format for Outlook are converted. Drag EML files in Outlook Express. Configure EML files with Outlook Express.
Run Microsoft Outlook in your system as administrator.
Click on File tab and select Open and Export.
Choose Import/Export option.
Select Import Internal Mail and addresses and then Outlook Express.
Select Next and click on Finish button to export EML files in Outlook
These are common methods to convert EML data to Outlook PST file. These methods are helpful in most cases but not in every case. These manual methods have few drawbacks.
Limitations of manual methods
The manual methods are suited to those who have technical knowledge. But users who are not familiar with technical terms can't understand the above methods. So, the manual methods are not ideal solutions to convert EML file to PST file format. Here are drawbacks of these methods.
The manual solutions are complicated and difficult for novice users.
They consume time and only a limited number of emails can be exported at a time.
The risk of corruption and data loss is high with manual methods
Because of all above reasons, the manual solutions are not considered suitable for everyone. Therefore, users need a more advanced solution for the migration.
Professional or automated solution
With professional tools, users can smartly convert EML data to PST file format. This is the fast and secure way to perform the migration. Also, because of their simplicity, they are considered perfect for both technical and non-technical users.
Sysessential EML to PST Converter is an effective software to convert EML files into Outlook PST file format. It has a friendly interface and it smartly converts EML files in batches without any external tool installation.
Final Words
This guide explains all the main reasons to convert EML files to Outlook PST file format. It also offers two ways for the migration – manual method and professional tool. Since manual method is not suitable for all users therefore, automated solution is offered that suits best to non-technical users and comes with multiple advanced features for smart migration. You can monitor its performance with free trial version.