The very common MBOX file format is supported by several email applications such as Opera Mail, Entourage, SeaMonkey, Spicebird, Eudora, Thunderbird, Webmail, Mulberry, to store messages. With MBOX file format, you can store emails and messages in a single mailbox and due to which users consider it a slow file format. MBOX files are used in well-known email clients, despite this, users want to move MBOX files to PST hence, to convert MBOX to PST file format they search for a solution.
The most plausible reason for the conversion of MBOX in PST is the easy-to-understand features and services provided by MS Outlook. In addition to this, you can keep your PST files password protected. PST (Personal Storage Table) is the file format used for storing the copies of messages, calendar events, and several other items in Outlook.
How to Move MBOX to PST?
Conversion of MBOX in PST is a little complicated and needs expert help. Thus, for performing effective conversion from MBOX to PST, you need to acquire a technically advanced software solution. A reliable solution such as  SYSessential MBOX to PST software is a commended way out. Being a secure toolkit, users from several corners of the world rely on it. Many features make this tool worth using like compatibility to work with all Windows and Outlook editions etc increase its reach amongst users. Along with this, it supports converting MBOX files in file formats such as EML, MSG, etc.
Method to Convert MBOX to PST using SYSessential MBOX to PST Converter Software:
Firstly, launch SYSessential MBOX to PST Converter software.
After installing the software, you will see the software's interface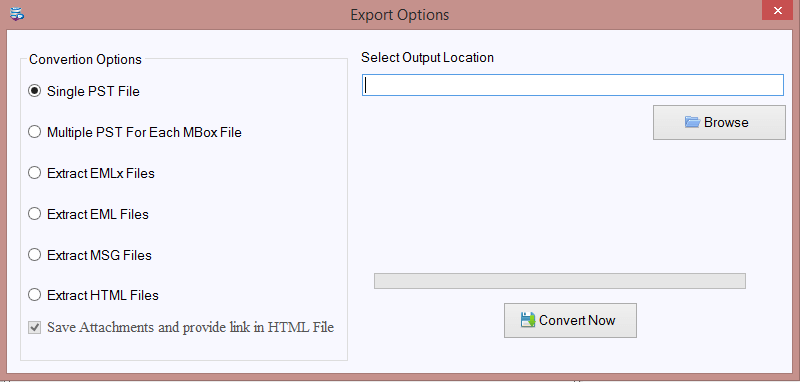 3. The user interface has various buttons which help to load MBOX files. There are two modes for selecting single or multiple .mbox files.
The two options include:
Folder Mode: Folder Mode will select a single folder with multiple files.
File Mode: File mode will select a single file.
Thunderbird Options: You can upload Thunderbird files by enabling Thunderbird options. Check the options below:
Load Thunderbird Default Location: This will help to take the default location of Thunderbird files.
Locate Thunderbird Location Manually: This option will help to load Thunderbird files manually
You will get the mailbox preview of the selected MBOX files. Now, check and click the 'Export' button.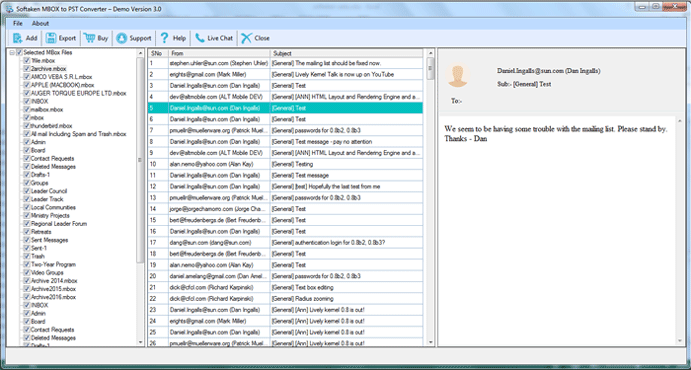 There are various export options to export MBOX files and Thunderbird in multiple file formats.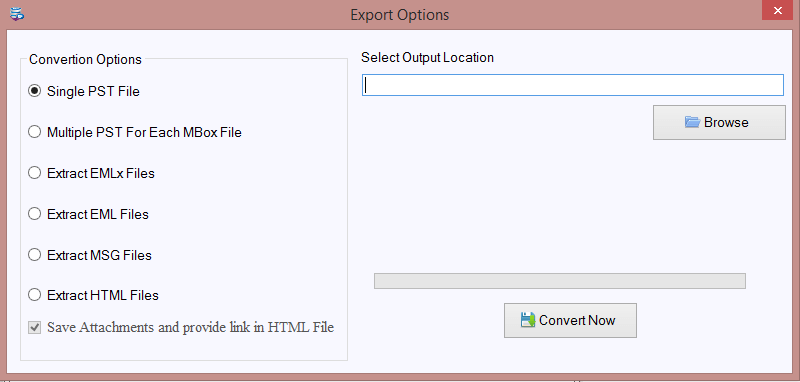 Export Screen Options:
Convert to PST: This option will export MBOX files into PST file format.
Multiple PST for each MBOX file: This option will separate PST file for each MBOX file
Extract EML Files: This option will extract all emails in EML format
Extract EMLX Files: This option will extract all emails in EMLX format
Extract MSG Files: This option will extract all emails in MSG format
Extract HTML Files: This option will extract all emails in HTML format
There is a manual method for converting MBOX to PST however, manual methods are complicated and tough to use. Such methods come with various disadvantages too. Check the troubles of using manual way out:
The manual method consumes a lot of time.
It is not supportive of multiple or bulk conversion.
Manul method does not guarantee safe data conversion
There are higher chances of data loss
The user has to be technically an expert to run the steps.
The user has to be alert while performing the steps. Any error may lead to complications.
Due to the troubles with manual methods, users would like to prefer using a professional third-party tool such as SYSessential MBOX to PST Converter. The third-party software comes with several features and some of them are as follows:
Benefits of using SYSessential MBOX to PST Converter:
The tool supports exporting MBOX emails from multiple mailboxes to PST.
Provide the facility for converting MBOX to PST, EML, and MSG.
Maintains folder order without affecting data integrity.
Supports a huge number of email clients supportive of MBOX file format.
The tool has a simple GUI and thus very easy to operate.
CONCLUSION:
Many users search for a way to Guide to Import MBOX to Outlook due to several reasons. However, for hassle-free conversion, a professional software tool is recommended. You can rely on using the SYSessential MBOX to PST Converter tool. This application comes with user-friendly steps and offers a simple interface. You can try the software in the free trial run so that you can get an idea of running the software before hand